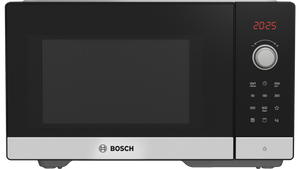 BOSCH
BOSCH 25L FREESTANDING MICROWAVE SERIES 2 -FEL053MS1M
Regular price
R 2,999.00
Sale price
R 3,999.00
Tax included.
Shipping
calculated at checkout.
BOSCH 25L FREESTANDING MICROWAVE SERIES 2 -FEL053MS1M
AutoPilot 8: every dish is a perfect success thanks to 8 pre-set automatic programmes.
 
Automatic cooking made easy.

With AutoPilot 8 you can cook your meal to perfection. After placing the dish in the product, set - out of 8 - the appropriate automatic program in the display menu. Just add the weight of the dish and press "Start". AutoPilot then takes over and determines the cooking mode, temperature and cooking duration. It even switches off the program towards the end of the cooking time. As some dishes with the AutoPilot require the use of ovenware with a lid, the interior walls also stay clean. Cooking couldn't be simpler.
 
Grill function: 
Perfect grilling results are quickly and easily achieved thanks to a powerful grill.

Cleaning Assistance: 
Less cleaning effort thanks to the new cleaning option, which can be especially used for cleaning of light soiling.
 
Easy cleaning inbetween

Your microwave is just lightly soiled and you want to clean it quickly? Just place a cup of water with a drop of washing-up liquid in the microwave and add a little spoon. Just set the cleaning programme and let the microwave do the rest.  The environmental friendly cleaning system softens food residues so you can just wipe it down, for fast and uncomplicated cleaning.
Lighting
LED lighting: perfect illumination of foods with minimum energy consumption.
 
LED lighting: perfect illumination of food

LED lighting allows for perfect illumination of food with minimum energy consumption.
 
Microwave function:
Time saving preparation, defrosting and re-heating of dishes.
---
Share this Product